Training for Safer Streets
We will then contact you
and confirm the details
for your booking


Limited Places Available

And Also
The vehicle was going at 20 mph.
At 40, the children would be dead.

Slowing driver speeds is the aim of many in the highway industry and this rare footage shows just why. The dashboard camera filmed what happend when a car driving at a slow speed crashed into a young family group.

The children are thrown onto the road and it seems utterly amazing that the family could walk away with minor injuries. The vehicle was going at about 20mph – had it been travelling at 40mph the result would have been far more severe injuries or worse.

It also shows how the adult is able to react far more quickly than the children.





• Link to movie on www.Telegraph.co.uk

2013 Tour De France

Celebrate the Tour De France with this selection of prints from Just Eleanor of the classic road race.
They have a vintage feel reminiscent of the race a hundred years ago in 1913 when Philippe Thys was the winner.





• Link to www.telegraph.co.uk

Urban Jewellery

Hidden in amongst the standard range of street clutter and urban highway infrastructure are hidden some real 'gems', where art meets streetscape.
Bollards, footway chains and street lamps are given a jewellery twist with a hint of humour by Liesbet Bussche. See them in Amsterdam, Brussels, Sweden & France.
The huge scale of these trinkets makes them street worthy and brings an edgy and fresh appeal to public art.





• Link to Urban Jewellery

Fighter pilot advice for safer roads for cyclists

John Sullivan, Royal Air Force pilot with over 4,000 flight hours in his career, and a keen cyclist. He is a crash investigator and has contributed to multiple report. Fighter pilots have to cope with speeds of over 1000 mph. Any crashes are closely analysed to extract lessons that can be of use.

Try this test to see how much detail is lost in peripheral vision

1. Stand 10 metres away from a car.
2. Move your eyes and look just one car's width to the right or left of that car.
3. Without moving where you eyes are now looking,
try and read the number plate of the car.
4. Try the test again from 5m.





The test shows you quite how little detail you are able to truly capture from the side of your eyes.
That's not to say that we cannot see something in our peripheral vision – of course we can. As you approach a roundabout, you would be hard pressed not to see a huge lorry bearing down upon you, even out of the corner of your eye – obviously, the bigger the object, the more likely we are to see it. But would you see a motorbike, or a cyclist?
To have a good chance of seeing an object on a collision course, we need to move our eyes, and probably head, to bring the object into the centre of our vision – so that we can use our high-resolution vision of our fovea to resolve the detail.

• Link to London Cyclist


• Link original article as pdf.
Shared space at busy intersection, Poynton, Cheshire
Park Lane and Fountain Place jointly form the commercial and social centre of Poynton. As such they have a critical place function for the village, helping to define its identity and local distinctiveness, requiring a high quality environment that will encourage social interaction and economic vitality.
STATISTICS

Vehicle flows

10,500 per day

Park Lane

27,000 per day
6% HGV's

A523. London Road & A5149 Chester Road

Scheme cost

£3m
Design Strategy:
The design identified five locations for gateways to highlight the transition from highway, with its predominant movement function, to the village centre, where other activities and functions are equally important.
The design for Fountain Place replaced the existing traffic signal control and strongly defined arrangement of footways and carriageway with a design based on shared space principles, comprising two distinct but interconnected circular spaces. In view of the heavy traffic flows, paving materials and low kerbs were used to define the areas for traffic circulation as a guide for drivers and other users, but these physical clues are subtle and also emphasise the pedestrian desire lines through the space.
Village Shared Space - Poynton, Cheshire
See how it works 15min movie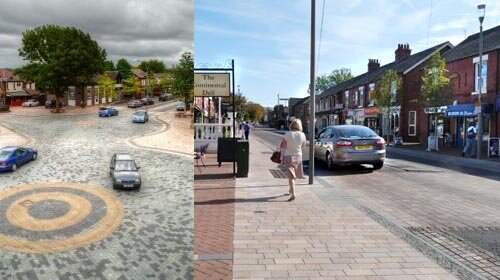 Julian Road in Bath
This community led project is gradually restoring a sense of place to a street previously blighted by high speeds and highway clutter. Sketch proposals by H-BA aim to establish a distinctive place at the junction of Malborough Buildings at the gateway to Bath's Georgian heart. The first phase has been implemented, removing centre-line markings and much sign clutter, and creating an informal junction outside St. Andrew's Primary School. Recorded traffic speeds have reduced, and accident rates have come down.
The incomplete first phase of the scheme has now been modified, given the lack of progress in tackling the Marlborough Buildings junction
On the stretch of Julian Road recently treated there were:
1998 - 2002 9 serious accidents involving serious injuries and one fatality
2005-2009 No injury accidents recorded
Julian Road serves as an exemplar case study in Manual for Streets 2, published October 2010 (P.68)
For more information go to: Ben Hamilton-Baillie.co.uk
New York in Pyjamarama
Transport theme books for National Book Week
I love this book because all the pictures come alive.
They really move when you put the special sheet over them.
The Vortex is my favourate page.
Book review by Christopher, 7yrs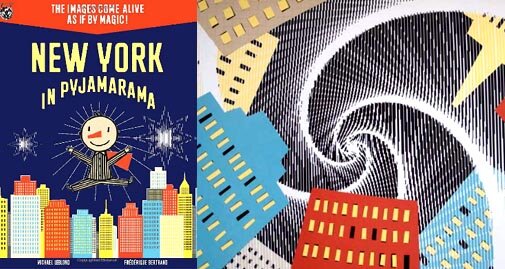 Oriental art of the manhole cover
Utility access covers on footways can be placed in line with direction of surfacing for a neat finish.

The not-so ancient oriental art has been on the public streets of Japan since the early 1980's.Manhole covers have become a more decorative feature of the pavement. They are custom made for individual towns and reflect an areas cultural history, landmarks and local festivals. About 95% of the 1,780 municipalities have their own designs. Competition is growing between towns to design the best manhole cover.
More of this amazing practical public art can be found in Drainspotting, by Remo Camerota.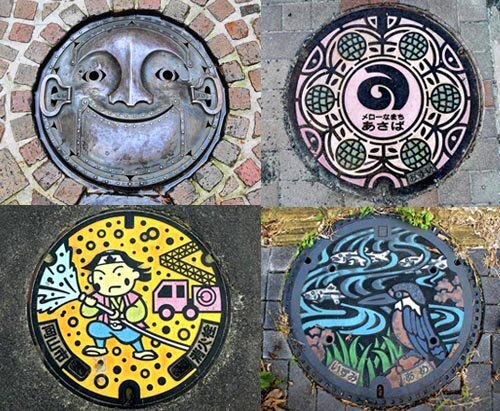 The Economist: The Slowing of Britain.
Stringent restrictions are coming to a road near you.
2nd Feb 2013
Stillwaters run deep - Context sensative highway engineering
Streets can be seen in many ways. As a machine for transporting with efficiency as its only goal. Or as a home of a community where people live, work and relax.
Designing streets that link with the local history and context yet perform their transport functions safely and efficiently is the challenge for public realm engineers and highway designers.
The struggles of Stillwater, USA show how with time, care and envolvement solutions can balance the needs of all users.
Resident perception was that the county wanted to cut through and straighten out the very hills and curves that give the area its character.
That is until Engineering Division Director John Risko, applying Context Sensitive Solutions training, came to the community seeking their input. Through a stakeholder committee and a series of public meetings, the new bridge design was considered alongside the history and context of Stillwater.

Initial highway proposals were to transform a road designed in 1700 into a modern highway with a 40ft wide structure designed for traffic speeds of 50mph inappropriate so close to a residential community.
The bridge design reduces traffic to safe speeds and while maintaining links with the heritage and environment of the area.
It is a unique gateway feature that announces the entrance Stillwater and its community and history.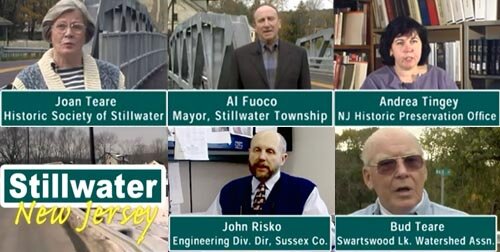 Click here to Stillwater Youtube link
Stylish Signs - 1960's fashion photographs

1960's fashion photographer Norman Parkinson set his glamorous fashion shoots in many cities and streets.

He often used humour to give the chic designs of the era a touch of realism.

Street signs never been soooo stylish!!

These images are available
as postcards from Paperchase.
An abstract view of streets and squares
Public realm, streets and city squares seen through the eye of artist Katrin Korfmann with photo collages which bring together a series of photos over time.
An abstract pattern is created distinct views of Sienna, Berlin, Cambridge, Hong Kong and New York.
For more: Katrin Korfmann
Seasonal Signs for Valentines (and beyond)

Traffic signs are icons of the streets and these humorous signs can lift the day or a
monotonous journey.
In true french style these are some seasonal romanitc favourites for the Valentines season.
Why say it with flowers, when you can declare it to the world via the traffic signs of the national highways? Perhaps some ideas for the TSRGD?





..or perhaps this one which
simply suggests what
we all go through
from time to time...

...'just having
one of those days'...

For more highway fun go to: Daily Mail
Along a long road

A delightful book of a cycle ride along which travels through towns, coast and country.




Join in and take a trip with a simple colour palette and rhythmic language.
Hit a bump?
Get back on track!
Reach the end?
Start again

ISBN-10: 0316129259 ISBN-13: 978-0316129251
Wall Dogs of New York


Have you ever wondered who and how those large scale murals were painted on the sides of buildings?
Wall Dogs have been adding colour and life to the streets of New York for over a century.
Carefully scaling up a design and painting directly on to a building wall. They feel part of the urban structure and vibrancy. Now with a hint of nostalgia as adverting goes more high-tech.
Buildings provide the ultimate large scale canvas for public art and the ultimate challenge for an individual painter. Wall Dogs can literally paint the town red.



Great short documentary: Wall Dogs of New York


Link to New York Times Slide Show
A Home for Streetscene products

Bringing the streetscene to your home with these fun and useful products.

Cutting edge cushions by Charlene Mullen celebrate the fantastic views of icon urban streetscapes.
Link: Charlene Mullen


Cultivate your own cress street scene with these elegant town houses. Add your own highway features such as street lamps, post boxes and cutout street trees. Choose a village setting or an urban street. Then add to your collection with buildings of your choice.
Link: Matchcarden

Bird cafe is a hanging outdoor bird feeder, constructed of white moulded plastic with clear plastic windows and a steel cable for hanging; hand wash or wipe clean.
Link: Bird Cafe

Three views of the same public space with very different interpretations but all beautiful.
The bold triangle design may seem over powering but it works well with its surrounding urban environment giving a playful and dynamic character to the cityscape.
3 Dimensions of a public square - Sergels Torg, Stockholm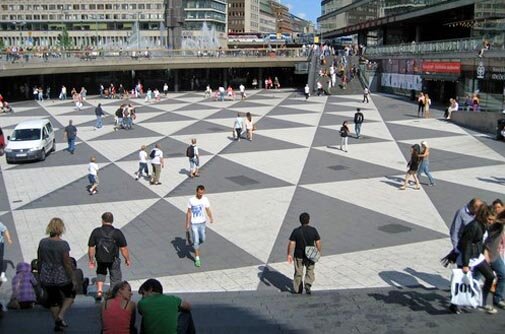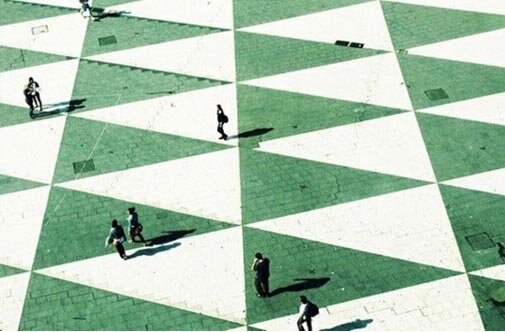 Three views of the same public space with very different interpretations but all beautiful.
The bold triangle design may seem over powering but it works well with its surrounding urban environment giving a playful and dynamic character to the cityscape.
Reducing unnessary road signs safely- Department for Transport


" I urge other councils to think about where traffic signs are placed and whether they are needed at all."

Creative thinking and skilled use of highway regulations are recommended to highway engineers to reduce the number of road signs on our streets.
Some 9,000 signs are thought to have been removed but more can be done. Areas and councils vary. More progressive areas are complimented for reducing street clutter and reducing the costs of installation and maintenance in times when budgets are constantly being challenged. Councils mentioned in particular are London, Hampshire and Somerset.

The government plans to give councils more discretion over where they place signs, with new rules expected in 2014. Training will be required for engineers and safety auditors to feel confident with such initiatives and guidance.

The Department of Transport review highlighted councils in England which they say are "leading the way" on removing superfluous signage.

Link to BBC news article
Link to Telegraph article

For more advice and guidance go to:
Street performer - Gandini Jugglers

Juggling entertainers in the streets give a great show with access to all. Gandini Jugglers bring this art bang up to date with a vintage and querky slant. Performing in formal venues and open spaces including Exhibition Road and the Southbank, they bring their comic juggling routines for all to enjoy.

The juggling troupe led by Sean Gandini will perform their show Smashed, at the International Mime Festival in London from 10-27 Jan.

Catch them at: International Mime Festival in London from 10-27 Jan


click here to view movie on Youtube


Link to
Gandini Juggling